"Should I visit Sigiriya or Pidurangala? Which rock is better? Sigiriya is so expensive, is it enough to just see the other rock instead?" I used to answer that question at least once a day. And while most local tuk-tuk drivers here in Dambulla take the easy way out and claim in their limited English that both rocks are the same and offer the same view, and actually only the price is different (Rs. 5500 versus Rs. 500), I have to tell you: This is just wrong! They are not the same.
Before I climbed Pidurangala for the first time myself, I asked our guests who had visited both rocks for feedback. And they all said that the two rocks are completely different. They could not be compared. It was as if by chance there were two sights in one place, but that they were by no means substitutes for each other.
My own experience with both rocks
Since I climbed Pidurangala for the first time in 2015 and then Sigiriya again and then again Pidurangala twice, I can tell you a lot about the differences now.
Since then, I do not recommend to visit either Sigiriya or Pidurangala, but preferably both rocks. The ascent of Lion Rock is a unique experience in this world. You should not miss it! Climbing up this rock, which like a box just sticks out of nowhere, marvel at the ruins of the royal palace on the summit and wonder how on earth they carried all those thousands of bricks up there all those years ago. Simply overwhelming.
And then seeing Sigiriya from Pidurangala completes the picture of the Lion Rock. Enjoying the panoramic view on top of Pidurangala you'll see hills and mountains everywhere. But then your view falls on Sigiriya Rock and you will be amazed by seeing this boxy shaped rock, that's unlike any other rock in Sri Lanka. Out of nowhere, in the middle of nowhere! A truly captivating sight! Right here and now you will understand why King Kasyapa decided to build his palace on Sigiriya: He needed a safe place to rule, and a more secluded and inaccessible place than this can't be found.
If you think the ticket for Sigiriya Lion Rock is too expensive, have a look at my other post, where I explain its pricing.
Sigiriya or Pidurangala: Main differences
Sigiriya and Pidurangala do not have much in common except their location and height. Indeed they are quite different from each other. But here are the main differences in detail.
The view
When you are on Pidurangala the view is stunning, because you have an amazing view of Sigiriya Lion Rock (see the picture on top of this post)! But to be fair it has to be mentioned that you are looking at the highest and narrowest point of Sigiriya. This means that you cannot see anything of the summit and the ruins on the Lion Rock. All you can see is the last ascent, the stairs leading up to Sigiriya's platform, and all the people winding up and down these stairs.
Now you might think that the view from Sigiriya will be about the same, only without Sigiriya in it. The latter is true, but the view does not feel the same at all. For a simple reason: From one side of Sigiriya you can see Pidurangala – and hardly notice this inconspicuous rock. But on the other side of Lion Rock you are treated with a highly picturesque view of a lake surrounded by mountains.
Every visitor spends eternities there to enjoy this view and take hundreds of photos. From Pidurangala, however, you cannot see this mountain and lake landscape because the Lion Rock is in the way.
The climb
The other major difference is the climb itself. Pidurangala is a rock like so many others here in Sri Lanka. I like to compare it to the Dambulla Temple Rock. You walk up a rocky staircase along a shady path in the jungle and when you reach the top you are rewarded with a beautiful panoramic view. It reminds me of hiking.
In Sigiriya on the other hand the climb is part of the actual sight. You walk up a staircase carved into the stone, then a spiral staircase, pass a kind of open cave with frescoes in the middle of the rock, stroll along the "mirror wall", walk through the Lion Paws and zigzag up the final staircase to the summit – all the time wondering how on earth people in Kasyapa's time were able to carry up all the tens of thousands of bricks needed at the top. Occasionally you can spot some kind of stairs the size of a footprint hewn into the edge of the rock and you will contemplate how many people might have lost their balance and hence their life trying to reach the top of Sigiriya… A truly different experience than climbing Pidurangala – but well worth the effort (and money)!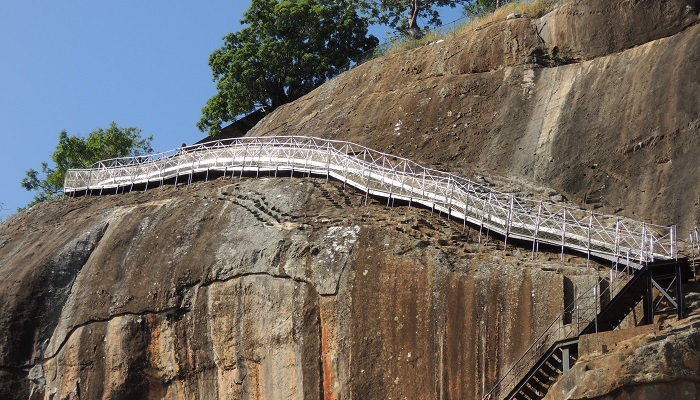 So which rock to climb?
You have to decide for yourself if you want to visit only Sigiriya or Pidurangala or both rocks. In any case, it is worth climbing both, a completely different experience. But since a visit to Pidurangala only adds Rs 500 and 2 hours more time, you should definitely think about it! And a visit to Pidurangala alone, unfortunately, does not replace the experience of climbing Lion Rock.
For more information on Pidurangala have a look here or on http://seelanka.net/sigiriya/pidurangala.html. Much more information about Sigiriya are provided in my Sigiriya category here.