Beautiful Sri Lanka is full of marvelous sights and breathtaking landscape! There are so many historical and beautiful places to visit and these are so diverse and plentiful! Every region got its very own, particular touch. Lush green jungle might change into desert-ish bushland within a short ride. You might only go 100km far, but it may feel like in a different world.
The places to visit that shouldn't be missed in Sri Lanka
Even though Sri Lanka is so diverse and there are unlimited places to visit, the main attractions in Sri Lanka can be divided into 3 categories: The beaches, the Hill Country and the Cultural Triangle with its historical places.
It's really recommended to cover at least some attractions of each of the three categories during your visit. Some people forego a visit to the Cultural Triangle in favor for more days at the beach. Other people, on the other hand, decide to skip the beaches completely. Everybody is different, with different interests and likings. But I'd suggest paying at least a short visit to some places to visit of each category rather than skipping one completely.
On this page I only covered the main attractions of each category. Every category has its own exhaustive page with all places to visit and things to do in that area. So click on the following links for all the information about the Cultural Triangle, the Hill Country and the Beaches (the last two one are still in the writing process).
The Cultural Triangle
The Cultural Triangle is packed with many UNESCO World Heritage Sites. Among them are Sigiriya, the Dambulla Cave Temple, and the ancient cities Polonnaruwa and Anuradhapura and, of course, Kandy.
But this area offers many more attractions and historical places to visit. I have covered many of them in a separate post. Read here all about the Cultural Triangle and its places of interest.
Sigiriya
Sigiriya, also called "Lion's Rock", is a crazy and unique place in the world! A king many centuries ago figured that he'll need a very safe place to live. So he decided to build his palace on top of a rock. And not just any rock, a rock that just comes out of nowhere like a box.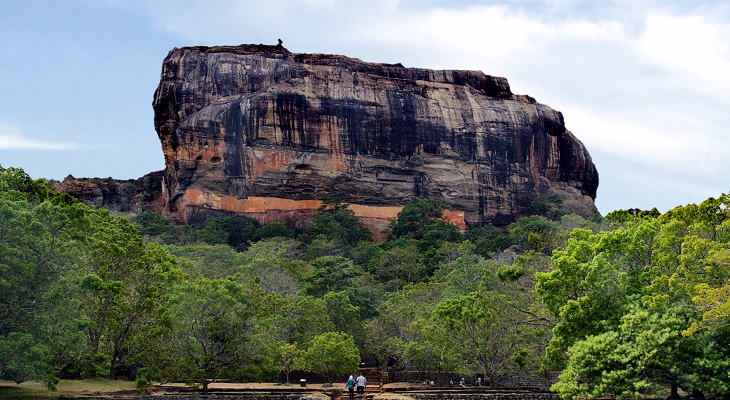 For the best possible experience in Sigiriya make sure you read my full post about Sigiriya here. You will find all the information needed for a great and memorable visit. All posts related to Sigiriya – including how to get there and why it is so expensive – are here in my Sigiriya Archive.
.
Dambulla
Dambulla is very famous not only as a transport hub in the cultural triangle of Sri Lanka, but also for the astonishing Dambulla Cave Temple. It's a small complex of 5 ancient temple caves.
At the bottom of the rock is the Golden Temple with a huge Golden Buddha.
As we live in Dambulla, many of my posts cover Dambulla and this area. Read everything related to Dambulla right here in my Dambulla Archive.
.
The Beaches
Sri Lanka's prestine beaches are mesmerizing and should definitely not be missed at any holiday on this beautiful island. Depending on the time of the year, it's either rainy season in the north-east or the south-west coast of the country.
South coast beaches – November till April
The south coast is packed with beautiful and diverse beaches. Some are mainly for swimming, others for surfing and then there are also quite a few places for snorkeling and swimming with the turtles. Some beaches are along a long stretch of sand, some are more of a rocky kind of beach, some are bays, big or small, some with deep water and others very shallow.
Mirissa
My favorite beach in the south coast is by far the one in Mirissa. The long bay-shaped beach is devided by a tiny island called Parrot Rock.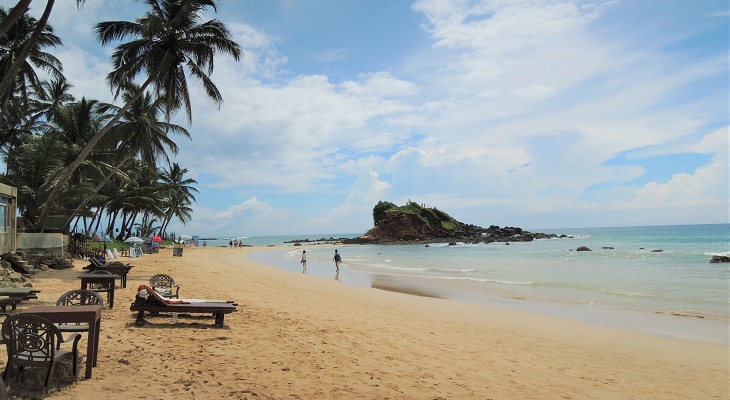 I love the rock formations there and the natural pools at the bottom of the Parrot Rock. It also offers a marvelous viewpoint.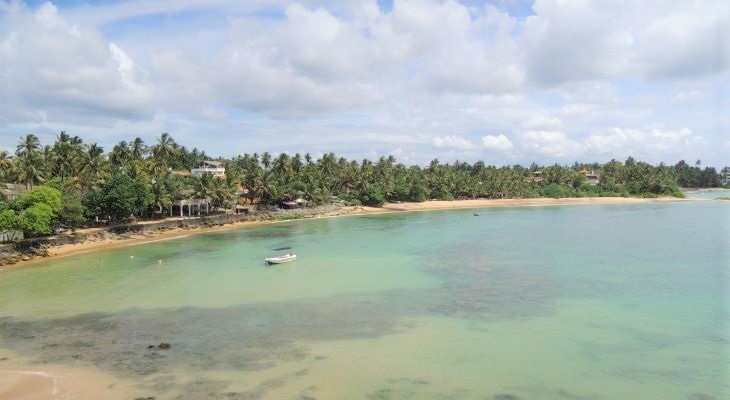 Staying in Mirissa offers you to visit other places easily, like the Polhena Beach, which is only 10km away. Polhena beach is not the best beach for swimming, but superb for snorkeling! You have to go at the right time, before the tide comes in. Water will be waist-deep at most places and also turtles snorkel around there. And the best: Just south of Polhena Beach I found a little hidden beach, and it's so beautiful!
Weligama
Weligama is very famous for surfing. It's not too suitable for swimming, though! The water is very shallow and in peak season it's full of surfers, that might run you over. But definitely stop there for a night or two – or 2 weeks, if you are a surfer or hoping to become one 😉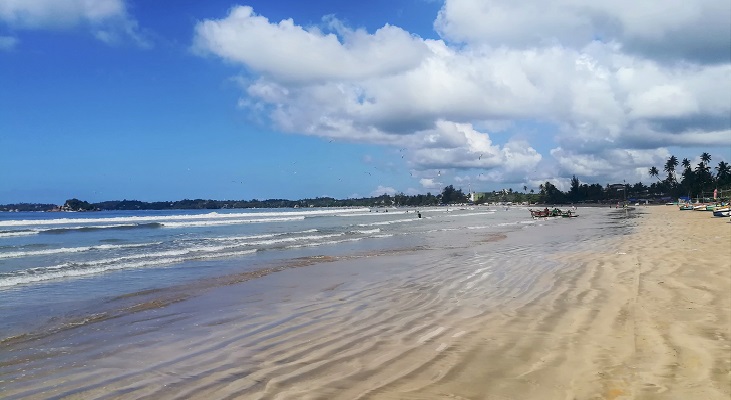 But Weligama offers also other scenic places to visit. It's a fishing village, so there are plenty of fisher boats everywhere like in this picturesque location: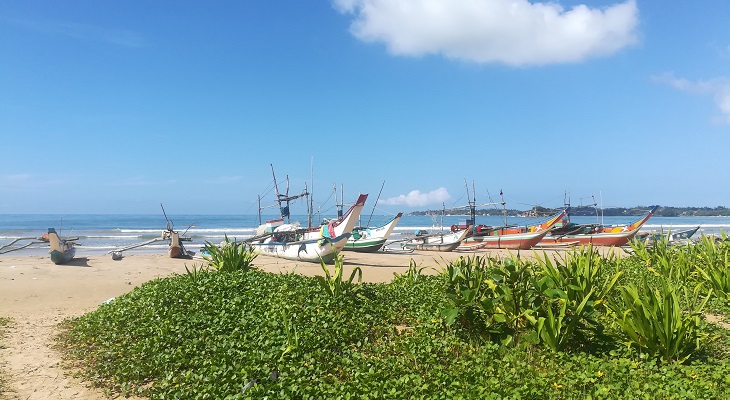 .
Galle Fort
The Galle Fort was built in 1588 by the Portugese and in the 17th century extensively fortified by the Dutch. It's still well preserved and it's super beautiful to walk along the old fort walls.
The Fort in Galle is pretty much the only attraction in Galle, which is other than the fort quite uninteresting. A visit to the fort takes approximately an hour. So a short stop in Galle on the way is definitely recommended, but you don't have to stay there for a night.
.
East coast beaches – April till October
In the months from March/April until the begin of rain season in September/October the nicest beaches for a dip in the ocean are along the east coast Sri Lankas. Here are above all two famous and advisable hotspots: Trincomalee and Arugam Bay.
Trincomalee
In Trincomalee, or close to it, are the beaches Uppuveli and Nilaveli. Uppuvelis beach is kind of bay-shaped, which means you see the beginning and the end of the beach. Nilaveli starts just north of Uppuveli and looks more like an endless beach, a long straight stretch.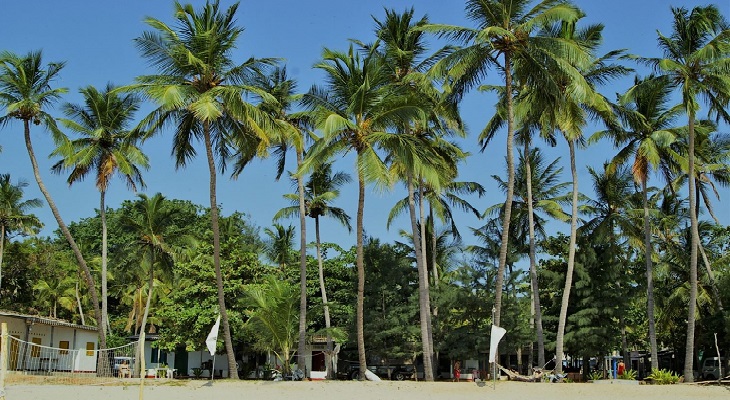 Uppuveli is closer to the town and thus it's a lot easier to go to any shop or restaurant outside your hotel. Also it's easy to pay a visit to Trincomalee town and it's beautiful Hindu Temple at a small rock directly at the ocean a visit. Uppuveli is definitely the better option for people on a tighter budget and explorers, who want to visit as many places around Trinco as possible.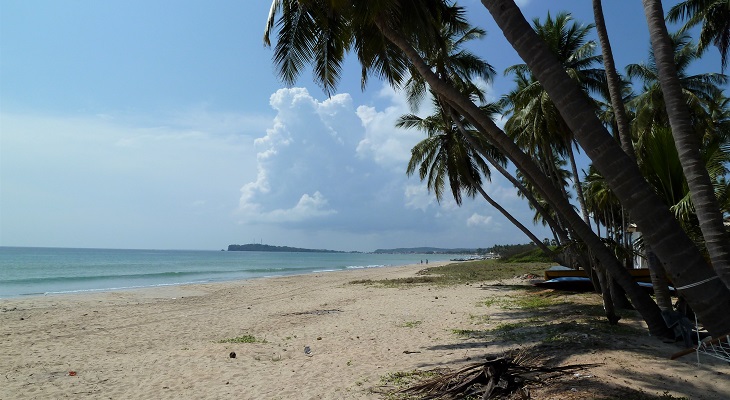 Nilaveli is a lot more remote. Depending on the exact location of your hotel, you might be quite far away from any shop or restaurant and only close to the beach. Nilaveli is good if you like to spend all day at the beach or inside your hotel and pool, including all meals.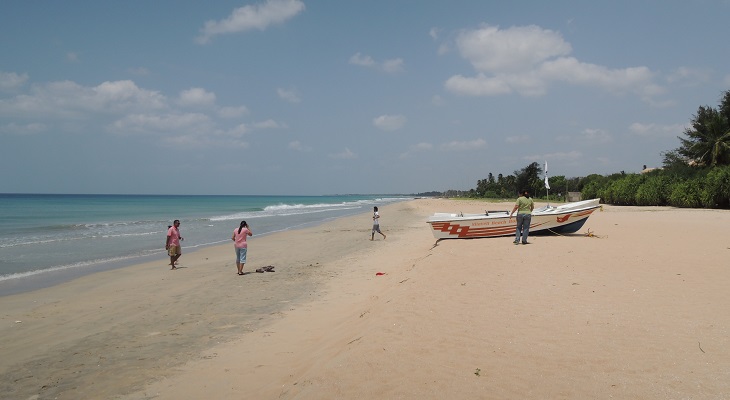 Arugam Bay
Arugam Bay is one of the very few places, that I still haven't visited myself. So unfurtunately I have no first-hand information nor beautiful pictures for now.
But here is what I've heard from the tourists staying in our guesthouse: Arugam Bay is all about the surf-vibe. The beach is not as beautiful as the one in Trincomalee, but Arugam Bay is THE surfer's paradies of the east-coast season. Literally everyone has a surfboard under the arm during the day and in the evening everyone is chilling out in one of the plentyful bars and restaurants.
I can't confirm this, neither can I contradict. I just hope to go soon and see Arugam Bay myself. And then I'll let you know all about it.
.
The Hill Country
The Hill Country is full of beautiful tea plantations and dramatic mountains. The view is just stunning everywhere! It's a magical place!
You definitely shouldn't miss a visit in Ella and Nuwara Eliya. But also the mountain with a pilgrimage temple called Adam's Peak is well worth climbing!
It's also very famous for a most scenic train ride from Kandy to Ella.
Nuwara Eliya
Nestled amoung the everygreen hills full of tea plantations is a colonial town called Nuwara Eliya (translated "City of Light"), which the British colonialists used as kind of a summer residency, when it become to hot in the other parts of the country.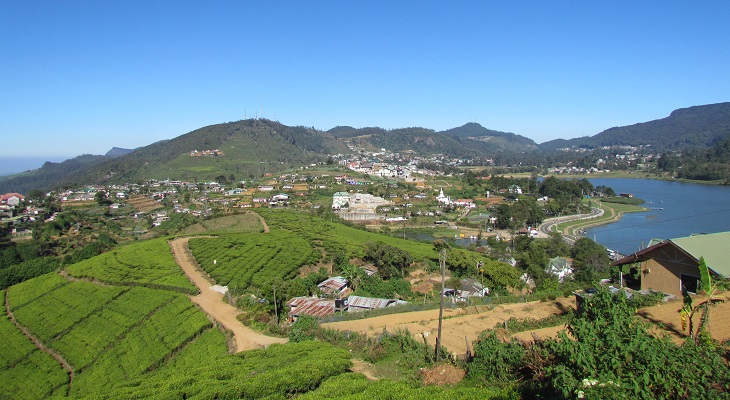 As a former colonists' town, many old buildings of Nuwara Eliya have an outstanding architecture. You'll feel like in Europe some centuries ago. Also the climate is very nice, it reminds of European summers instead of tropical summers.
Places to visit like Adam's Peak and Horton Plains with World's End can be reached easily from Nuwara Eliya.
Ella
Unlike Nuwara Eliya, which is surrounded by hills, Ella actually lies more in between mountains. Tea plantations are less, but the views are more dramatic and spectecular.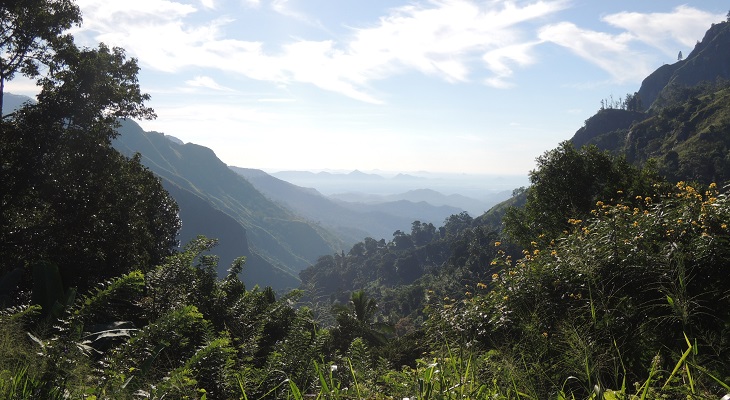 Ella used to be a small village, that most Sri Lankas haven't really heard of. But it became very famous among tourists, who turned it into a very touristic small town, with more restaurants, bars, hotels and souvenir shops than actual homes. But anyhow I'd say it's a must-see destination in Sri Lanka. It offers many breathtaking places to visit. You can easily spend at least 2 nights here. The most well-known atractions here are Little Adam's Peak, Ella Rock and the Nine Arch Bridge for the train.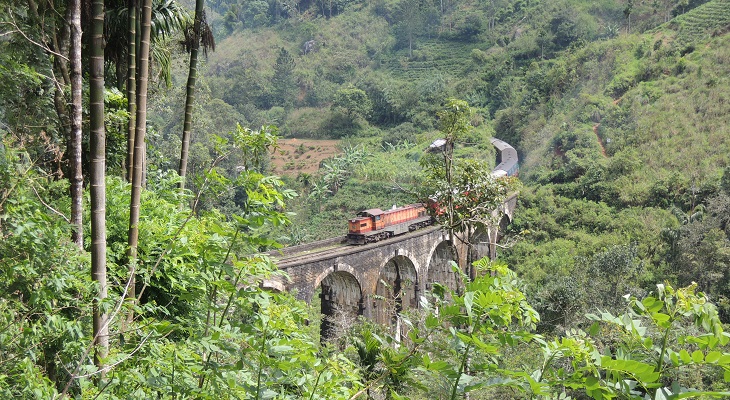 Adam's Peak
For everyone who loves hiking and sunrise-viewing from the top of a mountain, and even more very sore muscles for a few days, Adam's Peak is THE place to visit.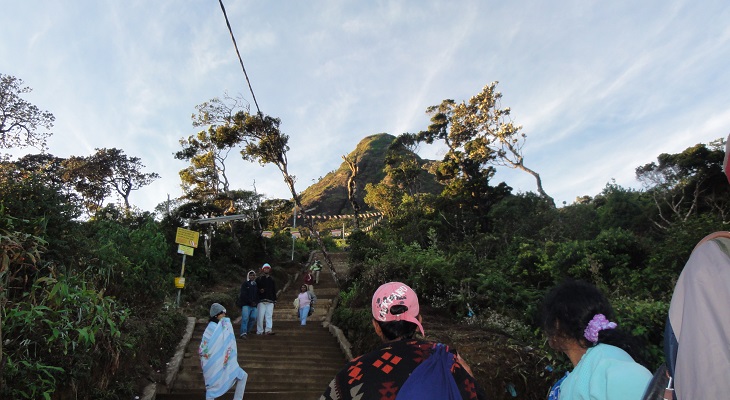 As hard and strenuous the climb is, as rewarding is the view from the top when dawn sets in and the first rays of sunlight come up on a clear day.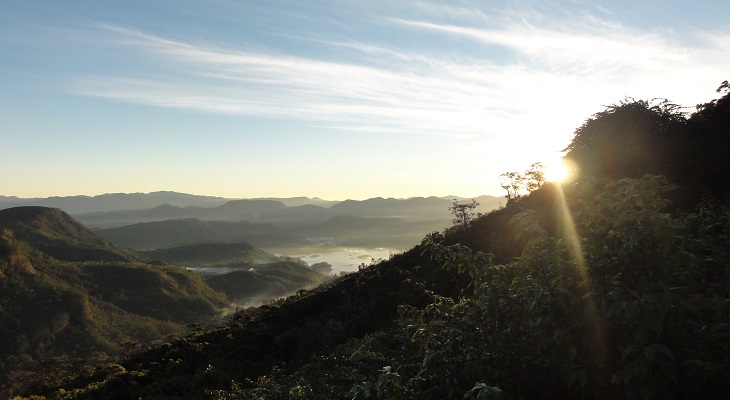 But the stairs to the top are steep and plenty. And they seem to be endless, especially when climbing at night. You just can't see the top, it's pitch-black. The climb takes about 3-4 hours, depending on your fitness.
Don't leave too late, the top gets crowded!! That means that often in January and February even though you arrive just below the peak before sunrise, you can't access the top, because there is simply no space left for more people and you'll have to wait for the first people to leave after sunrise in order to reach the top. Better leave at 12 midnight or 1 am. Because everyone starts the climb between 2 and 4 am…
The best time to climb Adam's Peak is from December to May. The rest of the year it's rainy season in the Hill Country and off-season in Adam's Peak. That means it's not only wet and most likely cloudy, but also all shops along the staircase remain shut and the lanterns are off. It's dark! So if you decide to climb Adam's Peak between May and November, bring enough water, a good torch, that will last 3 hours minimum, warm and waterproof clothing and plenty of snacks.
.
The less-traveled path
And then there are other areas, that become more and more popular for travelers, even though they are a bit off the beaten track and don't fit into any of the 3 aforementioned categories:
The North – Jaffna area
If you have enough time or are very interested in different cultures, definitely visit Jaffna. But in Jaffna itself are not many sights to tick off a list. It is more about experiencing the Tamil culture as opposed to the Sinhalese one.
There are a few very impressive Hindu temples though. Especially famous are the 2 temples on a small island which you can only reach by boat: The Buddhist temple Nagadipa Purana Vihara and the Hindu temple Naga Pooshani Ambal Kovil. Definitely a nice half-day trip while staying in Jaffna.
The west coast – Kalpitiya
Kalpitiya is the next hot spot to be. It's all about kite surfing. Many new resorts come up in order to be filled with energetic, dynamic, financially well-situated youngster to kite all day long under perfect conditions in the lagoon. But the area is also nice for non-kite surfers, who can enjoy a nice walk along the lagoon, watch the kite surfers perform awesome tricks and sunbath on the vacated beaches (as the kite surfers have no time for sunbathing…).
Anyhow be aware that Kalpitiya's infrastructure is not that of a tourist hot spot yet. There are already some resorts and a few less expensive guesthouses. But there are not many street restaurants to eat out, supermarkets or even bus connections.