The cultural triangle of Sri Lanka has plenty of places to visit. But as there are not only cultural attractions in this marvelous country, people try to fit as many sights as possible within one day. Occasionally I'm confronted with the question whether or not it's possible to do Sigiriya, Pidurangala, and Polonnaruwa as a day trip.
[If you are looking for an answer if you can do Sigiriya and Polonnaruwa in one day – yes you can, easily. You can use this same blog post to get all information you need!]
Climbing Sigiriya's Lion Rock, enjoying the breathtaking view of Sigiriya from Pidurangala and exploring the ruins of Polonnaruwa all in one day is possible. Time-wise. But it means you have to climb two times 300m high rocks and then walk around the ancient city of Polonnaruwa. Or even cycle between these ruins. And you have to get from one attraction to the next. All in this burning heat of the tropical sun, which makes you sweat when just sitting in the shade and eating an ice-cream…
To make it short: Yes, it's possible to see these 3 gems of the cultural triangle in one day. With private transport. Not by bus. But think twice! Time-wise it's possible. But energy-wise it's a different thing… Read on for a detailed explanation.
How long do I need for visiting Sigiriya, Pidurangala, and Polonnaruwa?
Here is what time you would need to calculate for the attractions itself (up and down, in and out), without getting there and around:
Sigiriya's Lion Rock takes roughly about 2 hours. If you want to see the museum as well (highly recommended), add one hour.
Pidurangala takes 1 to 1.5 hours in total.
Polonnaruwa's ancient city takes anything between 3 and 5 hours, depending on how you get around inside the old town (tuk-tuk/car or bicycle). Plan another hour for a visit to the museum.
To sum it up: Just visiting the sights itself will take you a minimum of 6 to 7 hours. If you are going to see the museums as well (highly recommended!) add another hour or two. Plus the time to get from Sigiriya to Pidurangala to Polonnaruwa…
Getting around between these sights
It is very easy to get from Sigiriya to Pidurangala. The entrances are only 1.5km away from each other. Which means that you could easily walk. BUT: On such a long and exhausting day, climbing two rock of about 300m height and exploring Polonnaruwa's ruins, believe me, you won't feel like doing this extra walk that only steals your time and energy.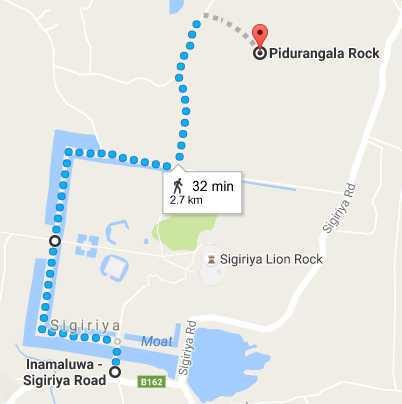 By private transport
From Sigiriya to Polonnaruwa it is a bit further away. In fact, it's a distance of 55 km – by private vehicle. There is a short-cut from Sigiriya towards the north. Taking this road you'll end up east of Habarana. This ride will still take you about one to one and a half hours, depending on traffic.

The huge advantage of having your private transport is that you will be driven around in Polonnaruwa's ancient city. From the ticket counter (in the Archaeological Museum) to the entrance of the ruins to all the places of interest inside and then to the exit will cover a distance of 7 to 8 km (not including the distance you will have to walk by yourself in order to explore the ancient city).
By public bus
If you are planning to catch a bus from Sigiriya to Polonnaruwa, then it's even a lot longer: 72 km distance. There is no bus service on that short-cut road or to Habarana. In order to get from Sigiriya to Polonnaruwa you had to catch a bus towards Dambulla (30 min, runs every 40-60 minutes) and get off at Inamaluwa Junction. From there you had to catch another bus to Polonnaruwa (1.5 hours, at least every 30 minutes). Depending on your luck with the bus schedule it will take at least 2 hours.
If you decided to try this day trip by bus, it's not only the extra time for the bus ride, but also the walk from the Sigiriya bus stop/your hotel to Sigiriya Rock and between Sigiriya Lion Rock and Pidurangala and then back to the bus stop. In Polonnaruwa you can get off the bus stop close to the Archaeological Museum, in which the ticket counter is located.
The most typical way of getting around in Polonnaruwa's ancient city is by bicycle. You can rent them everywhere – just ask anybody, they will show you a place for rent. A bicycle will cost you about Rs 300-500 per day. If you are already quite exhausted, you might consider hiring a tuk-tuk for showing you around (price negotiable, but should not be more than Rs 2000).
Where to stay best for that day trip?
Well, this greatly depends on whether you go by public bus or by private transport.
By private transport for whole trip
Actually, it doesn't matter too much. Wherever you stay, it might only add another bit of driving to the day. But it does depend a bit on where you want to go next. And if you have your private transport for the whole trip (self-driving or with a driver) and not just for a day trip, then it's definitely easiest to start in either Polonnaruwa or Sigiriya and end in the other town.
By private transport for a day trip and otherwise bus
If you prefer to stay for both nights at one place and book it as a day trip (which I would recommend, it will save you packing your bags and looking for a new accommodation), you have several options. Let's have a look at them:
Starting and ending in Sigiriya is convenient. Especially if you plan to do Sigiriya or Pidurangala in the evening. If you are too exhausted, just postpone one rock to the next morning. It's also easy on the budget, as you just had to book a return tour to Polonnaruwa and can explore Sigiriya's Lion Rock and Pidurangala by yourself or via short tuk-tuk rides.
But then, Sigiriya is in the middle of the jungle, and wherever you want to go next (by bus), you had pretty much to go back to Dambulla to get anywhere.
Staying in Dambulla adds a little bit of driving time to your day trip. But other than that you are in a great location for exploring the places to visit in and around Dambulla and also Dambulla is a huge transport hub. You can literally go anywhere easily. And you will get seats on the bus, a big plus! From my point of view it's the best option, particularly when you plan on doing this day trip but otherwise travel by bus.
You could also think that Habarana looks like a perfect base. But Habarana is rather small and really unexciting in itself. From here it's easy to get to Anuradhapura or Trincomalee by public transport. For every other direction, you might not get any seat on the bus, as hardly anyone gets off in Habarana. But if you plan to visit Ritigala and do an elephant safari either the day before or the next day, then Habarana is the place to stay for you for this day trip.
A day trip from Polonnaruwa makes only sense if you are going to head east (Batticaloa) or west (Anuradhapura) afterward. Other than that Polonnaruwa is just far away from any other next location.
By public bus
Well, as I said, it's hardly possible by bus. If you really really want to try, there are a few options:
1.) Stay the first night in Polonnaruwa, visit the ancient city there, move on to Sigiriya and see if you still manage to climb both rocks.
2.) Stay in Sigiriya, visit Lion Rock just when it opens at 7 am, catch a bus to Polonnaruwa right after that, explore the ruins there and come back to Sigiriya. Try to climb Pidurangala for sunset.
3.) Similar to option 2, but you would rise really early and do Pidurangala for sunrise (start the climb at ~5 am). Do Sigiriya at 7 am and then visit Polonnaruwa and come back in the evening.
4.) Stay in Dambulla (because of the other sights there and the easy transit hub) and go to Polonnaruwa first thing in the morning. From there catch a bus to Sigiriya (change bus at Inamaluwa Junction) and do both rocks in the afternoon. If you miss the last bus back to Dambulla, catch a tuk-tuk back (max Rs 1000).
5.) Stay in Dambulla and catch a one-way tuk-tuk to see the sunrise at Pidurangala. Do Sigiriya at 7 am and then visit Polonnaruwa's ancient city. Last bus back is not before 6 pm, so you've got more time than with option 4. You'll be back in Dambulla at 7.30 to 8 pm.
The weather factor
The heat! Don't underestimate the heat when planing this Sigiriya, Pidurangala, and Polonnaruwa day trip. Two times 300 height meter and a bit of walking through "old rocks" might not sound too much of an effort. But we are in a tropical country and the sun became an expert in draining you and your energy. It's got million years of experience, so don't mess with it!
At all 3 places you are fully exposed to the sun. At top of the two rocks and in Polonnaruwa's ancient city. Take an umbrella (like the locals do), lots of water and even more sunscreen.
In rainy season or on a cloudy day this day trip might be a bit easier. But then, I'm sure you can't order suitable weather and have to take what comes.
My personal experience with this day trip
I did it once. In our tuk-tuk. With two of our guests. Young fit girls full of energy. We ended up skipping half of Polonnaruwa, as we were totally exhausted in the afternoon. But we also pushed it a bit too far, I have to admit.
We climbed Sigiriya at 7 am, followed by Pidurangala. After a good (ready: heavy) lunch the girls wanted to visit the spice garden, which is in the opposite direction of Polonnaruwa. That detour added another 1.5 hours to our day's program. Arriving in Polonnaruwa after 1.5 hours drive around 3 pm, all we wanted right there and then was a good place to lay down for a nap. And not ruins to walk around… We visited the museum and the first few ruins, but after an hour the girls asked if we mind when we skip the rest, as they were so exhausted…
We started and ended this day trip in Dambulla. Even with skipping some parts of Polonnaruwa, it was still a 13 hours trip!! But mind you, including 2 rocks, 2 museums, 1 detour to the spice garden and 1 old ruin town.
It was a great day anyhow!