For most of the sights in the cultural triangle of Sri Lanka, day trips with the tuk-tuk from Dambulla or Sigiriya are recommended. In the tuk-tuk you will see so much more of the beautiful landscape than you would ever see by bus or even in a car/van. Because buses/cars/van ride along the main roads where you see mainly streets lined with houses and small shops. But the landscape around Dambulla / Sigiriya / Polonnaruwa is so unbelievably beautiful that you should not miss stretches on smaller, more remote roads.
Why I help to arrange a tuk-tuk
I have been living in Dambulla since 2011 and ran a guesthouse here for 5 years. I have met and seen many tuk-tuk drivers. And I received feedback from our guests. Some drivers are just after the tourists' money. Many drivers are nice, good guys. But a few drivers stand out, they are special.
Over the time I selected just a few drivers, that I sent our guests with. Because the guests love them. They will go far out of the normal way to make sure the tourists are fully satisfied. They take scenic roads (even when it takes longer), show some additional spots which offer beautiful views, provide some extra information and stop along the way to let you experience Sri Lankan food, goods and culture. They don't mind if the tour takes them an hour or two longer. For them it only matters to let their guests have a fantastic and unforgettable experience. They offer far more than mere transport. They represent Sri Lankan hospitality at its best. Believe me, there are big differences.
So if you want to drive with a really good and reliable tuk-tuk driver, who will show you more than just the main road, but if possible choose smaller roads, stop here and there, e.g. at smaller places or shops with special fruits or if you spot wild animals, I can arrange a good driver for you.
Write me an e-mail to info@travelinfosrilanka.com or even easier and faster: Send me a message in WhatsApp to +94778442908.
Important: Especially if the tour is still several months away, it can take some time until I answer. But I will contact you in any case as soon as the tour is approaching. And otherwise, please just write to me again. Thank you. But once I have started to communicate from my side, the organization of the tour is automatic, so you don't have to be afraid. Only the first answer, especially with many questions, can take some time.
Price list for the most common tuk-tuk tours around Dambulla / Sigiriya
A price list for the most common tuk-tuk tours starting in Dambulla can be found here. However, other tours can also be tailor-made according to your needs.
The drivers are also available for transfers from anywhere in Sri Lanka (e.g. airport CMB or Ella or Kandy, Anuradhapura, Polonnaruwa, …) to Dambulla, Habarana or Sigiriya. I can also arrange a car, van or jeep on request.
The price per day tour is stated per vehicle, not per person, and includes a pickup and drop off in your accommodation in Dambulla, Sigiriya, Habarana or wherever you stay and all the transport, i.e. to the sights and, for Polonnaruwa and Anuradhapura, driving you around the attractions and showing you everything. The prices are in Sri Lankan Rupees.
The price does NOT include entrance tickets. And our tuk-tuk drivers are not allowed to do the guiding at the attractions. A special license is required for tour guides. They will provide you with background knowledge here and there, but usually, they just wait in the tuk-tuk while you explore a site.
Most common FULL-DAY trips in the cultural triangle
Here are the most important details to each day tour, including usually the number of kilometers, the duration of the trip and the best time to start. The prices are based on the total amount of kilometers, and the average waiting time at the site. It's between 80 and 100 Rs per kilometer.
Polonnaruwa – Rs 13.000
The distance from Dambulla to Polonnaruwa is about 68 km (one way). The road is often lined by little stalls selling local goods. The ride goes along the main road, but offers beautiful views of paddy fields, jungle, a lake and other natural surroundings. In the late afternoon there is a good chance to spot wild elephants along the road.
The whole round trip usually takes 7 to 8 hours. You will have plenty of time for exploring the attractions of Polonnaruwa's ancient city and the museum. The tuk-tuk will drive you around the ancient city to all the places to see and let you explore freely. No rush. Anyhow, exploring the ancient city of Polonnaruwa usually only takes 2 to 4 hours. After all, these are ruins of a small town some hundred years ago – and not of a modern mega city 😉
Best time to start: You can start your day trip as you prefer: anytime between 7 am and 11 am is a good time to start. If you leave early morning, it won't be too warm and crowded. But if you leave late morning you will get a chance to see wild elephants on the way back to Dambulla (they come to the road between Polonnaruwa and Habarana late afternoon, 1 to 2 hours before sunset.)
Bring enough sun protection and a pair of spare socks with you – believe me, you don't want to walk barefoot on those hot, black old rocks that feel like coals in this heat…
Sigiriya or Pidurangala and Polonnaruwa – Rs 14.000
It is about 24 km from Dambulla via Kandalama Lake Road to Sigiriya Rock or Pidurangala mountain and from Sigiriya to Polonnaruwa another 55 km.
You can choose between visiting Sigiriya Rock (or Pidurangala) either early morning or late afternoon, which means either before or after Polonnaruwa. If you want to do Sigiriya first – in order to beat the heat and the crowds – the best time to start in Dambulla is 6.30 am (be at Sigiriya Lion Rock at 7 am when it opens). After a good morning climb up the Sigiriya Rock (or Pidurangala) you will drive on to Polonnaruwa and explore the ancient city. You'll be back in your accommodation by 4-5 pm usually.
The other option would be climbing Sigiriya Rock/Pidurangala in the afternoon, maybe even for sunset. In this case you don't want to arrive in Sigiriya too early. Leaving Polonnaruwa by 3 pm is probably a good time. So starting this tour at 10 am is recommended. Only if you are veeery slow at sightseeing maybe consider starting at 9 am. You'll be back at your accommodation at 7 pm.
Sigiriya or Pidurangala and Polonnaruwa and Jeep Safari in Minneriya or Kaudulla National Park – Rs 15.000
Minneriya and Kaudulla National Park are afternoon safaris. The logical tour itinerary would therefore be: Sigiriya/Pidurangala – Polonnaruwa – Jeep safari. Early start at 6.30 am to Sigiriya is highly recommended. That will provide you with enough time to see all the places without the feeling of rushing it.
You'll be back at your accommodation by 7 to 8 pm.
Anuradhapura – Rs 13.000
It is about 64 km from Dambulla to Anuradhapura one-way, roughly one and a half hours drive. In Anuradhapura itself you'll need approximately 2 to 4 hours to explore everything. Altogether the round trip will take about 6 to 7 hours.
To visit the historical places it is better to leave early morning so it's not too hot during your visit. Or leave noon-ish and explore Anuradhapura in the afternoon.
Anuradhapura and Mihintale – Rs 15.000
Explore the ancient city of Anuradhapura and the cradle of Buddhism in Sri Lanka on a rock in Mihintale. Mihintale is really beautiful in the afternoon, but it's up to you which one you like to visit first.
Anuradhapura and Avukana-Buddha – Rs 15.000
You can also add a stop at the Avukana-Buddha on your way to Anuradhapura. This causes an additional 40km drive and thus an extra one and a half to two hours to the total route.
The most common HALF-DAY tours by tuk-tuk starting in Dambulla
There are two routes to get from Dambulla to Sigiriya – either along the main road or along the Kandalama lake road.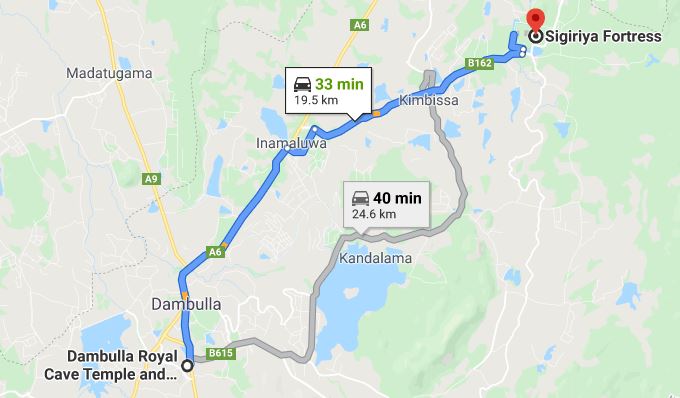 Sigiriya or Pidurangala via the beautiful Kandalama Lake – Rs 4.500
Drive through rice paddies, farmland and along the beautiful Kandalama lake where also the famous 5-star Kandalama Heritance Hotel is located. This tour is best suited for any traveler who wants to see the true beauty of rural Sri Lanka.
Tour info: One-way 24 km, 45 minutes drive, 2-3 hours at Sigiriya Lion Rock or Pidurangala; total duration of the tour is 4 to 5 hours.
Best time to visit: In the morning (be there 7 to 8 am) or afternoon.
Sigiriya or Pidurangala via main road – Rs 4.000
Tour info: One-way 19km, 25-30 minutes ride; 2-3 hours at the Sigiriya Lion Rock or Pidurangala; total tour of 3-4 hours: along the busy, boring main road. Bargain option for every low-budget traveler.
I really recommend everyone to visit both Sigiriya and Pidurangala. Although they are both rocks and are also located right next to each other, they are very different in terms of the actual visiting experience. Therefore, a visit to one rock does not replace the ascent of the other one. I have also written a detailed comparison of Sigiriya and Pidurangala.
Doing both rocks, the driver has to wait at both places a couple of hours for you. In addition to that, it's more likely that you have a lunch/dinner stop on the way. Therefore it costs Rs. 1000 more.
Sigiriya and Pidurangala via Kandalama Lake – Rs 5.500
Same as tour above, but both rocks. Return trip takes 5 to 6 hours.
Sigiriya and Pidurangala via main road – Rs 5.000
Same as tour above, but both rocks. Return trip takes 4 to 6 hours.
Watch Sri Lanka's wild elephants in one of the beautiful National Parks close to Habarana. There are no fences around the national parks, the elephants roam around freely. Therefore, it's advisable to check with a local from this area (rather than with a calendar or guide book) in which of the parks the elephants are during your stay.
Jeep safari in Minneriya or Kaudulla National Park – Rs 20.000
You cannot get into a national park without a jeep – for safety and road condition reason.
A friend offers a pick-up and drop-off in Dambulla or Sigiriya for Rs 20.000 per jeep! Just contact me and I will call him and ask for his availability. He has excellent reviews on TripAdvisor. You can also see photos and reviews of his tour on his website. He usually charges 38 USD per person, meaning two people would normally pay 76 USD, which is currently RS 24.000, let alone more for more people. You can also contact him via his WhatsApp on his website. Make sure to mention my name "Christiane from Travelinfo Sri Lanka" to get this discount.
Tour info: The jeep safari inside the National Park takes approximately 2 to 2.5 hours. The drive from Dambulla to the park entrance takes about 45 to 60 minutes. The return trip from Dambulla takes 4 to 5 hours in total.
Best time: A jeep safari is usually an afternoon activity. Arriving at the park entrance at 3 pm is a good time, but also an hour earlier or later doesn't matter. In the morning are hardly any elephants around.
My friend's jeep fits 5 passengers in total. 4 people can comfortably sit in the back and another person can sit in the front.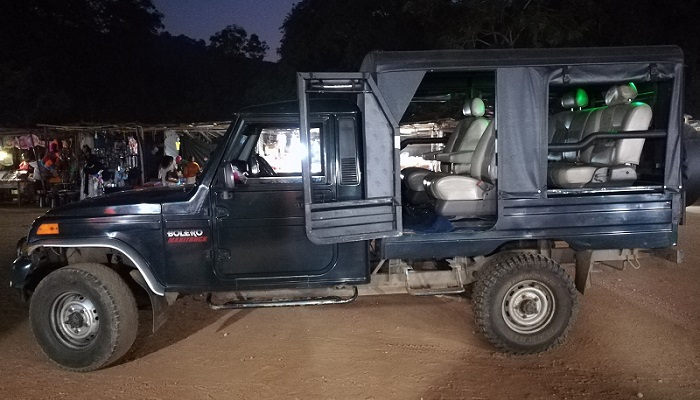 Wild Elephant watching off the main roads by tuk-tuk – Rs 8.000
Watch the wild elephants roaming around freely close to the main road. In the late afternoon, many elephants stand beside the not too busy main road between Habarana and Minneriya town. It's possible to catch a tuk-tuk and just spot them off the road.
Budget option, as it's Rs 8.000 in total, not per person. You need no extra entrance ticket or jeep. But it absolutely depends on luck and season. Usually you'll see between 3 and 15 elephants, but it's really absolutely depending on luck, there is no guarantee for even a single one. We can't order them to a specific location at a specific time 😉
Compared to the jeep safari, where you usually see some big herds of elephants at the lake, you will only spot an occasional single elephant on the edge of the main road. A large part of the tour consists of driving up and down the road.
The tuk-tuk is not allowed to go off the main road into the jungle. It's way too dangerous.
If there is an elephant on the road, the tuk-tuk will stop in some distance (50m) and for safety reasons you are not allowed to get off the tuk-tuk (unless the elephant is really far away). Elephants are wild animals and not necessarily your friend. They can kill people in seconds. But our tuk-tuk drivers are well aware of this and are cautious, so don't worry.
Tour info: Whole round trip from Dambulla takes about 2 to 3 hours. You'll drive up and down the roads hoping to spot elephants.
Best time: Only possible in the afternoon. Start in Dambulla between 3 and 4 pm.
Sigiriya or Pidurangala + wild elephants off the main road – Rs 10.000
Tour info: First visit Sigiriya or Pidurangala and afterward drive north to the main road and spot the wild elephants off the main road (read tour descriptions above for more details).
Best time: Starting early afternoon, ending around sunset.
Sigiriya + Pidurangala + wild elephants off the main road – Rs 11.000
Tour info: First visit Sigiriya AND Pidurangala and afterwards drive north to the main road and spot the wild elephants off the main road (read tour descriptions above for more details).
Best time: Starting noon-ish, coming back after sunset.
Kaudulla / Minneriya National Park transfer for Jeep Safari – Rs 4.500
Tour info: The tuk-tuk drives you to the entrance of the National Park or to a jeep closeby, that drives you into the National Park. The tuk-tuk usually waits outside the park or wherever you boarded the jeep and drives you back to your accommodation after the jeep safari.
Best time: Only possible in the afternoon or before sunrise.
Less common HALF-DAY Tours
Namal Uyana quartz rock via Ibbankatuwa Lake Road – Rs 4.000
This area is declared a national park. The ticket for foreigners cost Rs 500.
To get to the quartz rock from the entrance, you'll walk through a very beautiful endemic ironwood forest.
Tour info: 16km one-way along the beautiful Ibbankatuwa lake (with a marvelous Buddha sitting on a hill at the end of the lake). The return trip takes about 2 to 3 hours. You can stop at Ibbankatuwa lake to watch locals take a bath and wash laundry, or visit the temple up on the hill.
Best time: Anytime. Maybe avoid midday heat if possible. There is no shade on the quartz rock.
Avukana Buddha via scenic Ibbankatuwa Lake Road – Rs 6.500
Tour info: One-way 33km, along the beautiful Ibbankatuwa lake road. Takes approximately 1 hour to get there, or longer if you stop at Ibbankatuwa lake for a photo or two. In Avukana itself you probably won't need more than 15 to 30 minutes, but there is no time limit. Take your time to marvel at this masterpiece of stone carving.
Avukana and Namal Uyana via Ibbankatuwa Lake Road – Rs 7.000
Visit both of the above mentioned places and stop at the beautiful Ibbankatuwa Lake to see real local lifestyle and enjoy the marvelous view from the temple on the hill.
Tour info: One-way 33km, total tour takes approximately 4 hours.
Best time: Anytime. Try to avoid Namal Uyana in midday heat. So depending on your departure time in Dambulla either before or after Avukana.
Ritigala – Rs 8.000
Tour info: One-way 40km, total tour takes approximately 3.5 to 4.5 hours.
Best time: Anytime. But Ritigala is a steep rock, so maybe avoid midday heat.
My favorite tuk-tuk drivers
Asela
Asela happens to be my husband, but I'd recommend him anyway. He loves to show tourists the beautiful area he was born in. He doesn't see himself as a mere "driver", but more as a friend who shows you around. So he could stop on the way and introduce you to a friend, jump into a lake or show you his favourite bar or restaurant. Asela speaks reasonable English and he is very eager to explain many things and cultural sights to you. He is a funny guy and it is very likely that you will have a good laugh with him.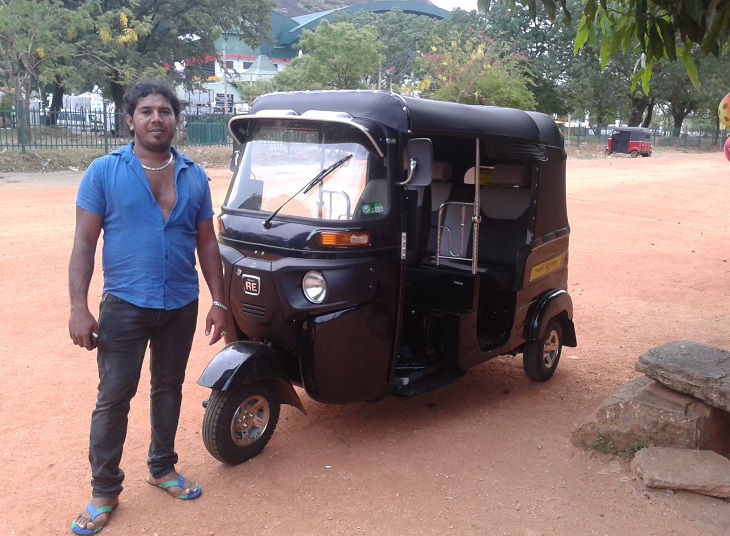 While the average tuk-tuk driver returns our guests at 10 am (when the Sigiriya tour started at 6.30 am or 7 am), guests who have gone with my husband won't be back before 11 am, more likely 12 noon. And they come back with a big smile on their face.
But as he has all the time of the day, he shouldn't be your first choice if you just want to rush through the sightseeing and get going quickly to the next place to stay.
Roshan
Roshan is a young family man in his thirties. His father was already a tour guide in the Cave Temple of Dambulla, so he grew up with tourism and stories about Sri Lanka tourists. Once grown up, Roshan also began working in the tourism industry. He worked for years in a Spice Garden near Dambulla, but for the sake of his family – being closer to home and more flexibility – he switched to tuk-tuk driving, much to our good luck.
Roshan speaks good English and has an excellent knowledge of many of the sights of Sri Lanka's cultural triangle. He is in the process of obtaining his license as a guide for the local UNESCO cultural sites.
Frequently asked questions about our tuk-tuk tours
Enclosed I have written down all the questions I have encountered so far and what there is to know when you go on tour here with a tuk-tuk driver I have arranged. Among other things, what exactly is included in the prices and how the booking, tour and payment will be handled.
We are not a tour operator or a company, but all private persons. We do not accept any liability for anything. So far (March 2023) I have arranged an estimated 200 tours and everything has always gone smoothly. So do not worry 😉
Booking process
If you contact me and ask for a driver, I will clarify with you all the details such as date, tour destination(s), pick-up location and pick-up time and then take care that a tuk-tuk is ready for you at the right place at the right time and drives with you to the right destination.
If you have any questions about the best route, starting time etc., I will of course be there to help you, so that we can get the most out of the day tour according to your wishes.
I will also get back to you the day before the tour and write you who your driver is and also give you his contact number – just in case. If the driver should cancel at short notice for urgent reasons, I will make sure that nothing changes for you: I will arrange another driver who will be there on time.
Price – What is included and any extra fees?

All prices are fixed prices. If no major detour is necessary for the pickup (see explanation below), then the stated prices are the final prices. Nothing else will be added, no hidden costs.
The drivers I work with all live in Dambulla. Therefore the prices mentioned are valid for tuk-tuk tours from Dambulla (near the city centre). You can also be picked up by the tuk-tuk drivers in Habarana or Sigiriya, usually without extra charge, if this place is on the way anyway.
If the pick-up point is clearly outside Dambulla (more than 5 km distance from the city centre/clock tower) and especially in the opposite direction to the tour destination, then you might have to pay a few Rupees extra. 5km distance to the pick-up point one-way will result in 20km and 30 minutes extra drive for the driver (pick-up 2x5km return, and drop-off 2x5km). But I will tell you this before the tour when booking, as soon as I have looked at the pick-up location on the map. So you will not have any bad surprises afterwards, don't worry.
The prices include pick up, drive to the tour destination and drop off at your accommodation (or if desired at another place of your choice, e.g. bus station or a certain restaurant).
Unfortunately for tours lasting several days, the distance and time required per tour are still the same. Therefore we cannot offer discounts for tours of several days. But the prices are fair and tightly calculated for each tour.
The price is per tuktuk, not per person – because it is and remains the same distance, whether one or three people sit in the tuk-tuk.
Entrance fees are not included in the price.
The prices are not given by me, but the usual prices for these tours here in the area, which the drivers would charge you the same if they met you in your accommodation or on the road (for the same service, i.e. more remote roads instead of main roads).
Course of the tour

You will be picked up at the agreed time and place in the tuk-tuk. The driver will then drive you to the tour destination. There the tuk-tuk driver will drop you off at the entrance/ticket counter and explain where he will meet you later. The driver does not come in, he waits outside near his tuk-tuk.
The drivers are NOT allowed to play tour guide and explain the sights in detail to you on site. Only government licensed guides with an appropriate certification are allowed to do this.
If it is possible or even necessary, as for example in Anuradhapura and Polonnaruwa, the tuk-tuk also drives into the ruin cities and there also drives you around from site to site. You do not need an extra vehicle on site. However, if you wish, you can rent a bicycle – which is very popular in Polonnaruwa, for example. You may, but you do not have to. The tuk-tuk will gladly drive you.
The driver will normally wait for you in the tuk-tuk until you have finished exploring. You are not under any time pressure – unless you are in a hurry yourself, either because there is still a lot of program on the schedule or because you want to get on to the next place quickly after the tour. Take as much time as you need.
Along the entire route you can of course stop at any time at a shop or restaurant or to take a photo etc. Just ask the driver to stop briefly and he will be happy to do so. Even if you get hungry, you can either choose a place yourself or ask the driver for a good restaurant. For tours that start early in the morning, you can always stop somewhere for breakfast. Our drivers are flexible and are not under time pressure. They are happy to see YOU having a nice day.
Two adults comfortably fit into one tuk-tuk. It is also designed and approved for three adult passengers. However, the space per person decreases significantly and it becomes cozy. If not all three people are on the slimmer side, it can also become a little uncomfortable. More than three adult passengers are not allowed in the tuk-tuk, which is now also punished by the police.
Small day luggage fits into the tuk-tuk without any problems. If there are only two adults, two backpacks can be transported, but this comes at the cost of freedom of movement and legroom. Very few tuk-tuks have a separate luggage rack on top (Saraths tuk-tuk has one).
Payment
You pay the tour in cash in Rupees after the tour. Occasionally the driver may stop at the petrol station shortly after departure or in between and ask for a small deposit. You simply deduct this deposit from the total price when paying.
I receive a small share per day tour from the driver (if your driver is my husband, I will hopefully receive a larger share! ;-)). For this small share you will get a hand-picked driver who will make sure that you see most of this area (picturesque roads) and have a fantastic day. For me this money helps to finance and maintain the work on this blog and it compensates me for the time I spent sending mails and arranging the tours/routes/drivers. I thank you for your support.
Last update: September 7, 2023