The rock next to Sigiriya is called Pidurangala. King Kasyapa built his King's Palace on Sigiriya, but he worshipped Buddha on Pidurangala. The monastery dates back to the third century BC, but it was under Kasyapa that it became huge. It's said the monastery was home to 500 monks and occupied an area of 14 acres during his reign.
The temple is still there today, and open to visitors. But Pidurangala is not only a temple. It is way more famous for being right next to Sigiriya and offering a stunning view of Sigiriya. Both rocks have nearly the same height: Sigiriya rises 200m above the surrounding jungle and Pidurangala is said to be only 1m shorter. For a more detailed comparison of Sigiriya and Pidurangala read here.
Pidurangala climb and entrance fee
While Sigiriya is unique in its shape, Pidurangala is a solid rock like so many others in Sri Lanka. In order to get to the top of that rock, visitors would enter the Pidurangala Temple, pay an entrance fee of Rs. 500 at the ticket counter, then walk up a rocky path through the jungle until they reach a Sleeping Buddha and finally climb a couple of big rocks in order to be rewarded by the most amazing view of Sigiriya. The climb is marked by painted arrows.
The final part of the way up to the top can be somewhat challenging. There are big rocks that you have to climb up (or sneak underneath as the stray dogs do 😉 ).
Sturdy shoes are recommended, but not a must. I once forgot to bring mine and mastered the climb in flip-flops, as do all the local tour guides.
Best time to visit: Sunrise and sunset
Pidurangala is particularly beautiful at sunrise. That includes climbing up in the dark, but being rewarded with a most beautiful view of a golden land at sunrise. Sunrise is all year round at approximately 6 am, so start climbing at 5.15 am is recommended. If staying in Dambulla, 4.30 am is a good time to depart by tuk-tuk. Bring a torch in any case and pay your entrance fee on the way out. The monks don't mind that, as long as you are fair and don't try to "forget" to pay.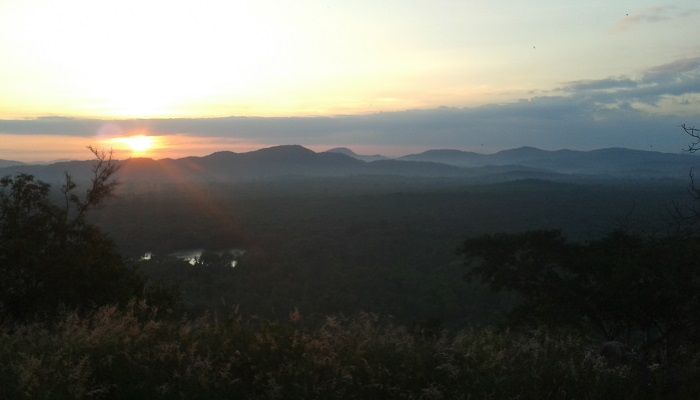 But also at all other times of the day, Pidurangala will catch the visitors' hearts. Sunset viewing is possible, too, but definitely bring a good torch per person for the way back down. You will have to walk through dark forest on unsteady stairs.
So far we've never had any guests who were disappointed by their visit to Pidurangala. Unlike Sigiriya, it's never crowded. Rush hour on Pidurangala means you would share the summit with another 10 to 50 people. Though it becomes more and more famous!
Don't miss the frescoes
While Sigiriya is world-famous for its frescoes, hardly anybody knows that there are also similar frescoes inside the temple of Pidurangala. They are inside the cave temple of Pidurangala, i.e. the temple building at the top of the very first flight of stairs, about 50-100m from the ticket booth, even before starting the jungle path up the rock.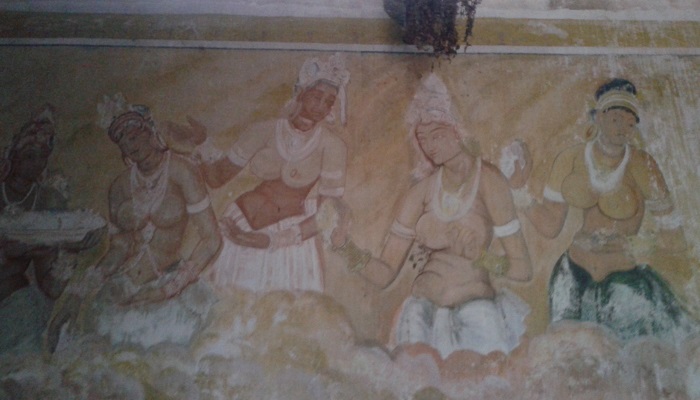 When you enter the temple building turn left in the hallway and at the very end on the right-hand side you'll see some frescoes.
What to bring?
As there is a temple at the entrance and a Sleeping Buddha halfway up, you have to dress properly. That means you have to cover your shoulders and knees. Bring a shawl, sarong or just wear long cloths.
There is no water or shop on the way up or even at the top. Stock up before you enter. There is a small shop close to the entrance.
Don't forget a torch if you are planning to go for either sunrise or sunset. The torch of a mobile phone will do in worst case, but as the stairs are made out of natural rocks (i.e. uneven) better bring a proper torch.
Sturdy shoes, as I already mentioned.
Bring some dog food (leftovers from your last meal) if you are a dog person, there are some tame but skinny dogs around and many visitors regret to not have any food for them.
How to get there?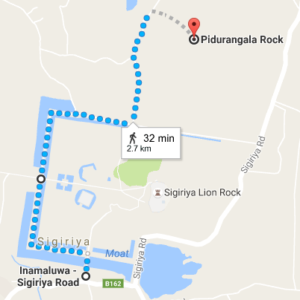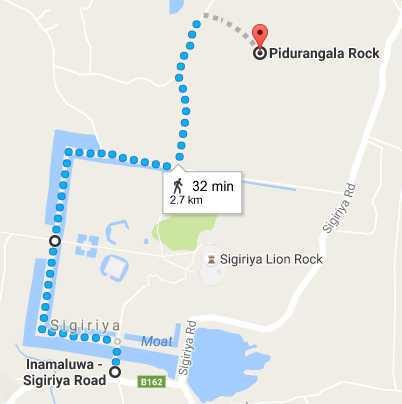 The easiest way is to catch a tuk-tuk (see price list). If you really want to do it the cheap way, catch the bus from Dambulla to Sigiriya (look here for more details). From the bus station you have to walk 2.7km to the entrance of Pidurangala Rock, from the Sigiriya entrance it's 1.7km.
Last update: July 2020