Many tourists who come to Dambulla ask: "What are the things to do and the places to visit in Dambulla besides the Cave Temple?" Well, honestly, not too many. Or let's put it this way: There are not too many things to do in Dambulla itself. Most of the amazing spots worth seeing are spread around Dambulla. They lie outside in nature, hidden in the most scenic landscape! This also means that you need a tuk-tuk/taxi or rent a bicycle to get there.
Of course here is Dambulla's famous cave temple. That's why people come here at all. But there is so much to tell about it that I dedicated a separate article to it. The second major attraction of the region is definitely Sigiriya's Lion Rock. But I have written an extensive, separate post about the Lion Rock and also about Pidurangala (the rock next to Sigiriya Lion Rock) as well.
On this page, I will describe all the other places to visit and things to do in Dambulla itself or in the surroundings.
Places to visit in Dambulla
So what other places to visit and things to do are there in and around Dambulla (click on the map to see more details):
Wholesale Vegetable Market
You can hardly be more central in Sri Lanka than in Dambulla. Therefore Dambulla plays an important role for the farmers and the vegetable trade of the country. Almost all farmers in Sri Lanka bring their harvest to Dambulla to the wholesale market and from there the vegetables are sold all over Sri Lanka.
Officially this wholesale market is called "Dambulla Dedicated Economic Center". It opened in 1999. Most of the more than 150 shops at this wholesale market are specialized in vegetables, but a few shops also sell fruit. All wholesale of course. In other words: You can easily buy 50kg of pumpkin, but just a single apple or a few carrots is more difficult.
To visit this market is free of charge. It's open every day except public holidays. It opens early in the morning (no fixed opening hours). Morning to noon is a good time to visit, as it is not too busy yet. In the afternoons and evenings it gets very busy and hectic – with many people carrying big bags of vegetables on their shoulders or pushing some carts. And all this between countless trucks blocking each other's way.
You will see two different types of vehicles in particular: firstly, those that come from the farm with fresh harvest. You can recognise these by the fact that normally only a few types of fruit or vegetables are loaded. They bring goods. On the other hand, there are the usually larger trucks, which are loaded with many different kinds of vegetables, but only in small quantities. These trucks drive the goods away from here and bring them to the retail shops all over Sri Lanka.
You don't need a guide to explore the wholesale vegetable market. But of course, there are some guides who offer their service and thus provide you with additional information.
All in all, a visit to the Dambulla Economic Center only takes a short time, approximately between 15 and 30 minutes, depending on how interested you are in the whole vegetable handling process. But even a short stop of 5 minutes on the way to the city is worth it to get a very short impression.
Sunday & Thursday market
Every Sunday and Thursday there is a local market in Dambulla. Unlike the wholesale market, this is the place where the locals buy their weekly needs of vegetables, fruits, spices, sweets, fish, meat, cheap clothes and all kinds of other small household items (buckets, cooking tools, plastic items, …).
The sellers have either set up small, temporary tables or – especially for fruit and vegetables – sit on a tarpaulin on the floor and offer their harvest or products bought at the wholesale market in small quantities at fair prices.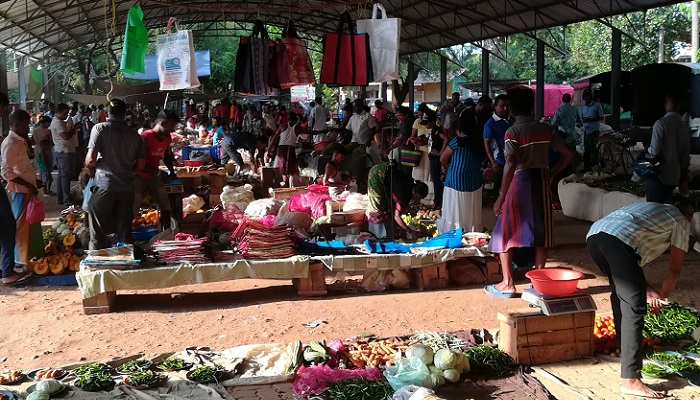 You might not find much for yourself, because there are hardly any goods interesting for tourists here. Maybe some spices. But you will get a good impression of the local food shopping style. Many of my friends get their weekly requirements of almost everything actually exclusively at this weekly market. And of course, a visit is worthwhile also because of the many great photos that can be taken there.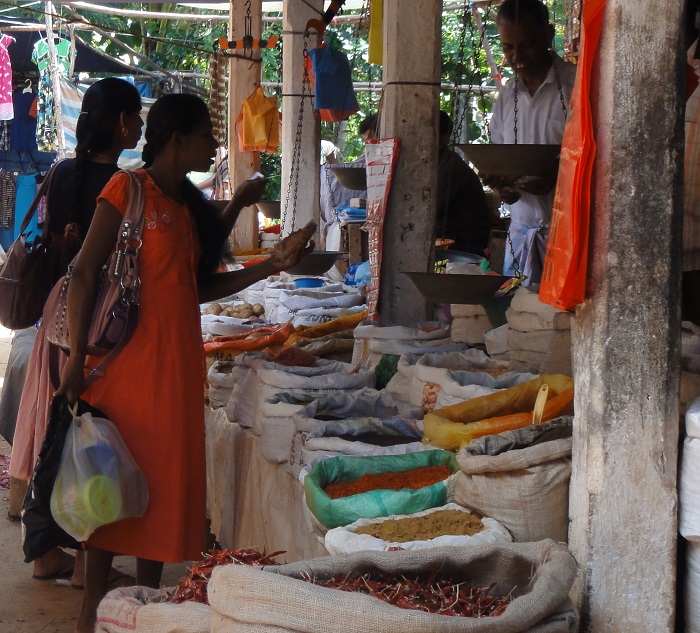 You do not need to plan much time for a visit. Usually a few minutes to half an hour is enough.
Popham's Arboretum
Popham's Arboretum is a tree garden. It is Sri Lanka's only dry zone arboretum, i.e. a place where trees are grown for study and display. Popham's Arboretum is about 3 km away from the Dambulla Cave Temple on Kandalama Road. You can easily catch a tuk-tuk for Rs. 200 from the temple or you catch a bus at the Kandalama Junction. Or just walk.
A daytime visit costs Rs. 1000 and you can follow one of the colored paths by yourself. The property is surprisingly big. The original founder, a British tea planter called Mr. F.H. (Sam) Popham, bought 7.5 acres in 1963. 1989 he handed it over to the Sri Lankan Institute of Fundamental Studies (IFS), which added another 27 acres. The longest trail would take you about an hour if you walk steadily. The manager will provide you with a lot of information, either personally or in form of a leaflet.
It's also possible to do a night safari to see loris. Loris are small nocturnal primates living up high in the trees. The night safari starts at 7pm, costs Rs. 1500 per person and is highly recommended.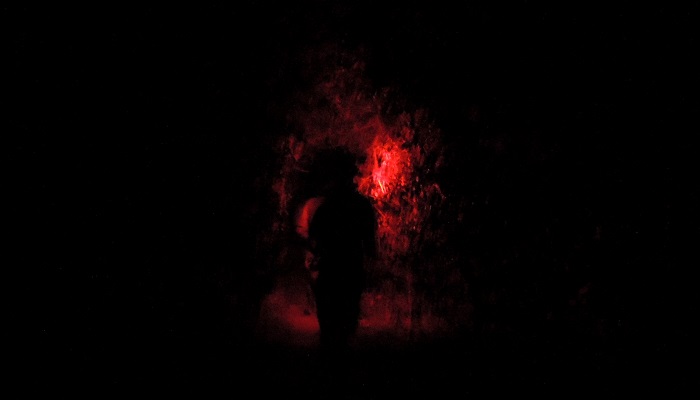 The two guides will lead you with red headlight torches through the forest. The atmosphere is amazing when pacing slowly and in total silence through the red-lighted jungle. A wonderful, unique experience!
Your luck in seeing Loris depends on the weather. During my visit it was quite windy (the wind season goes from about May to August). Our guide saw Loris twice, but both times they disappeared (jumped to the next tree) before my eyes could get used to the darkness and find the spot he pointed to. I was told that the best time for the Loris safari was from December to May, as there is no wind. The wind apparently frightens them and makes them jump from tree to tree, making it harder to find them in the pitch-black night. But nevertheless, it was indescribably beautiful and worthwhile, even without Loris sighting.
Dambulla Museum of mural arts
The Museum of Mural Arts or so-called "Dambulla Museum" is located only a few hundred meters down the road from the Golden Temple. It is often overlooked by tourists (as well as by locals), but it offers very detailed information about the mural arts of Sri Lanka. It also shows a replica of the famous frescoes in Sigiriya. So if for some reason you skip Sigiriya Lion Rock and Sigiriya Museum, you can come here to see these frescoes.
The whole visit takes about an hour. The entrance fee is 2 USD. There is also a small shop for souvenirs and postcards inside, which sells them at a very reasonable price (postcards are Rs 20 each, other items have price tags and are far from being overpriced tourist rip-offs!) However, the souvenir shop has a limited selection: There were a few small wood-carved Buddhas, and that was pretty much it.
Places to visit around Dambulla
Lakes around Dambulla
There are many lakes in and around Dambulla. But most of them are small and not suitable for swimming, as they are overgrown with water lilies – which are eagerly picked every morning by the flower sellers in front of the cave temple. If you just want to jump into the water for a quick refreshment, you can do so in the Temple Lake right next to the Golden Temple.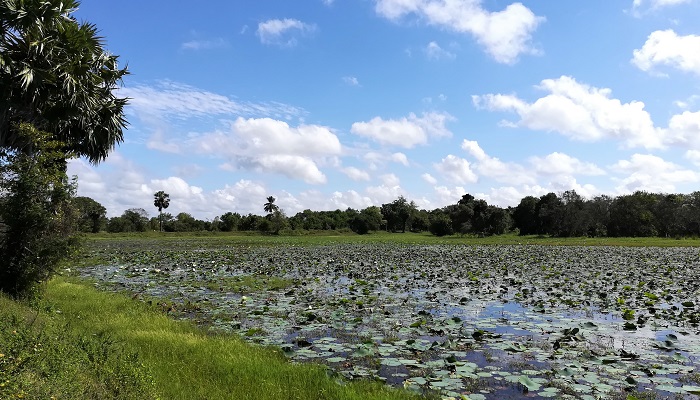 If you drive a little bit in the surroundings of Dambulla, you will be surprised by the beautiful landscape all around. It is breathtakingly beautiful! In this picturesque scenery there are also some larger lakes suitable for swimming. The biggest and best lakes for swimming and picnicking are Kandalama Lake and Ibbankatuwa Lake. Both are artificially created water reservoirs and provide local water and electricity. Locals come here to take a bath or do their laundry.
Kandalama Lake
Kandalama Lake is about 10 km away from Dambulla. Beautifully situated in the Sri Lankan jungle, it not only offers many green views in all directions, but also a beautiful view of Sigiriya and Pidurangala in the distance. There is a kind of bathing spot and a few stairs along the lake where you can go into the water. Watch the locals doing their laundry or watch the fishermen on the lake supplying the area with fresh lake fish.
On the other side of the Kandalama Lake is the famous 5-star Kandalama Heritance Hotel, which is really recommended for swimming in their pool (for a small fee, see the end of this post).
A trip to Kandalama Lake is beautiful at any time of the day. As long as it doesn't rain heavily, of course… The atmospheric light at sunset and sunrise give it a special touch, though.
Ibbankatuwa Lake
I personally love going to Ibbankatuwa Lake. For swimming, I find it better than Kandalama Lake. Many locals come here to wash their laundry.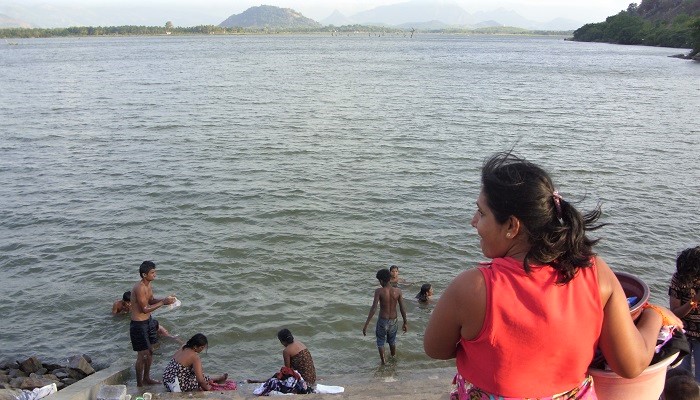 And also the surrounding looks so breathtaking! There is a small hill with a new temple and impressive Buddha on top.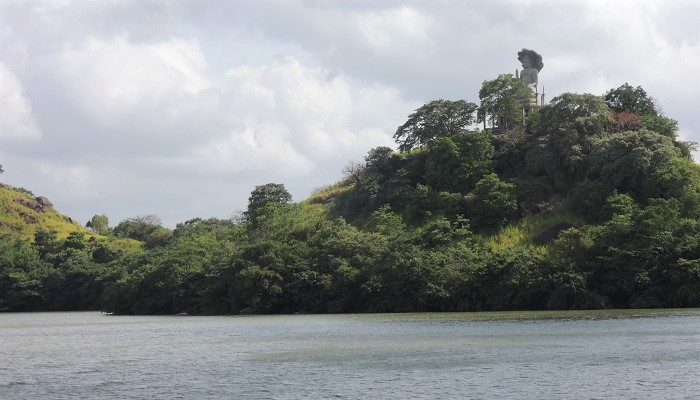 Definitely go up there, you'll be rewarded with beautiful views.
Fortunately, Ibbankatuwa Lake is on the way to Namal Uyana (via scenic Ibbankatuwa Lake Road, not main road, see our tuk-tuk tours here). It's definitely worth to come here.
Namal Uyana
Just north of Ibbankatuwa Lake lies Namal Uyana. This is the largest rose quartz rock in Asia. Inside it is completely pink, but the surface has turned grey due to the weather conditions and looks a little unspectacular. But in some places, especially where pieces have broken off on the surface, you can see the rose quartz.
The quartz rock is embedded in an ironwood forest and the entire area has been declared a national park. Foreigners have to pay an entrance fee of Rs 500. The first 15 minutes lead through this mystical ironwood forest, which really reminds of a primeval forest. A very pleasant walk.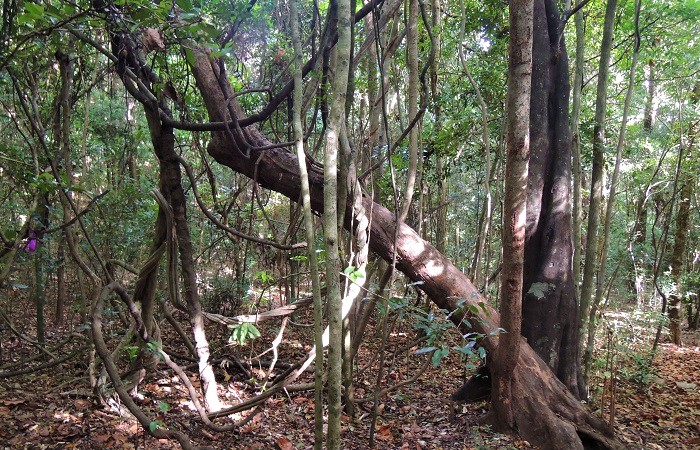 At the end of the path, you reach the rose quartz mountain. On top of the quartz mountain is a Buddha statue. So dress properly (shoulders and knees covered).
There is no paved path to the top, you simply walk on the rock itself. Nevertheless, it is safe and any kind of shoes is ok, even flip flops. From the top of the rose quartz rock you have a magnificent view of the surrounding countryside.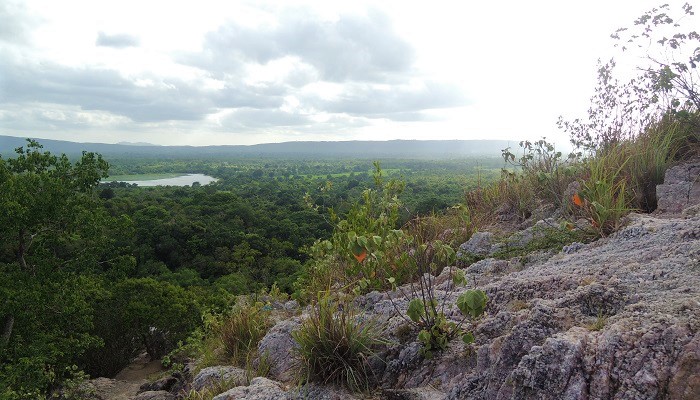 Other things to do in Dambulla
There are a few more things to do, which are really highly recommended. First of all there is the walk around the temple rock, which I describe in detail in this article about the cave temple. This walk can be combined very well with a visit of the cave temple of Dambulla. But read here for more suggestions on activities, what you can do in Dambulla.
Ballooning at sunrise
Enjoy the magical sunrise in a hot air balloon over the fields and lakes of Sri Lanka at Kandalama Lake and Dambulla. Warmly recommended by all who have done so. The tourists just love it. Have a look at the website of the ballooning company. It's not quite cheap, but probably worth it (I haven't done it yet, sorry!). Advance booking is strongly recommended – at least in January and February. We had some guests who could not get a seat for the next days.
Hot air balloon rides are very weather sensitive and can therefore only be carried out between November and April. The rest of the year it is either too windy or too rainy. Nevertheless, due to rain, booked balloon rides can be canceled at short notice.
The balloons take off at Kandalama Lake, but often they also fly over our house to the cave temple in Dambulla. But the route and distance always depends very much on the current wind and weather conditions.
Watch a cricket game
… at the international cricket ground in Dambulla. Occasionally there are international games versus India or Australia or England. Just have a look at the official Sri Lankan cricket website to find out when and where matches are taking place.
Swim in a hotel pool
Almost all hotels offer the use of their swimming pool to non-guests for a small fee. So you don't have to stay in an expensive hotel to enjoy this luxury. And even if your hotel has its own pool, this is a great opportunity to spend some time at other high-end hotels and enjoy a nice afternoon with a great view.
A very good choice would be the famous 5-star Kandalama Heritance Hotel at Kandalama Lake. I know not everyone has the money to stay there (I, at least, do not). But normally you can spend a few hours in the pool of the hotel for only 600 Rs per person (as of 2019)! When a friend of mine was there in May 2019 (after the bomb attacks on Easter Sunday in April 2019), the offer was changed: The use of the pool was free of charge in combination with a lunch a la card. If you are not interested in a lunch deal, it is best to let the reception of your accommodation call there and check the current conditions.
Of course, there is no public bus connection to such an exclusive hotel. You have to take a taxi or tuk-tuk from Dambulla or Sigiriya.