There is no short answer on how to get *easiest* from Dambulla to Sigiriya / Lion Rock or Pidurangala. Basically, you have to choose between the dirt-cheap way (bus) and the comfortable, fast and even scenic option (tuk-tuk).
Dambulla to Sigiriya cheap option: bus
The bus costs ~40 rupees one way per person. It leaves at the Dambulla Main Bus Station about 300m south of the clock tower on Kandy Road, which only serves short distance buses. The first bus departs at ~6.45am (there is no bus at 6.30am anymore, at least that's the latest feedback I got from guests who tried it). The bus ride takes about an hour. This means it takes 3 minutes to the second bus stop in Dambulla 200m north of the clock tower, where the bus waits for 10-15 minutes before proceeding to Sigiriya for the next 45 minutes. From the bus stop in Sigiriya it's an easy 10 minutes walk to the ticket counter.
So with the earliest bus you can only reach the ticket counter of Lion Rock by 8-8.15am. After the first bus at 6.45am there seems to be no fixed timetable. You would just go to the bus station and wait for the next bus to leave, which happens approximately every 45-60 minutes. It also depends on the day of the week. On weekdays buses go more frequently than on weekends. And on public holidays like full moon, there are hardly any buses at all.
The journey by bus can therefore be quite time-consuming. It takes a while from your accommodation in Dambulla to the ticket office in Sigiriya. In the best case a little more than one hour. In the worst case (long way to the bus station, just missed a bus) up to 2.5 hours. The last bus back to Dambulla leaves in Sigiriya on weekdays at 6pm, on Saturdays at 5.30pm and on Sundays at 5pm. So no sunset viewing is possible either.
But still: It's dirt cheap!
Fast and convenient option: tuk-tuk
The much more comfortable and faster option to get from Dambulla to Sigiriya would be by tuk-tuk. Tuktuks are available at any time of your choice, you will be picked up at your hotel, driven directly to the ticket counter in Sigiriya, you can stop at a restaurant or other place of your choice on the way and will be dropped off at your accommodation at the end of the tour.
You can choose between two routes. One option is the main road, which is really unexciting, but quick. In less than 30 minutes you will reach the Sigiriya ticket counter from your accommodation in Dambulla. If you leave your guesthouse at 6.30am you'll be just in time for the Sigiriya ticket counter to open at 7am. The usual charge for that route is Rs. 2500.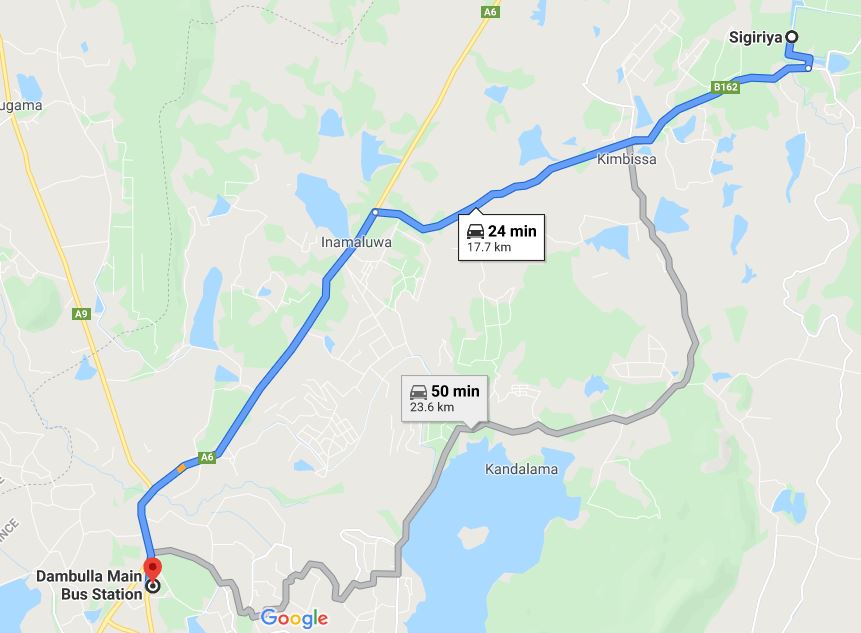 The other and also the much-preferred route by our guests is the scenic road along the Kandalama Lake. It leads through paddy fields and farmer areas around Dambulla. It looks so beautiful just after sunrise in the morning! Some guests even declared this route the highlight of their Sigiriya tour. It takes longer, about 50 minutes, but it's well worth the extra 20 minutes drive. The usual charge for the scenic road is Rs. 3000 and you should leave at the latest by 7am in Dambulla in order to be at Sigiriya before the masses and heat kick in.
If you need a good, reliable tuk-tuk driver, have a look at our tuk-tuk service (including a pricelist). I know the good guys and happily help you to organize a very good and reliable driver.
For more useful information and bits of advice on your Sigiriya visit, please check out my information-packed post about Sigiriya Lion Rock.
In addition to Sigiriya, I also recommend visiting the rock next to Sigiriya, called Pidurangala. A very good and detailed comparison between the two of them you will find here.