In Sri Lanka tuk-tuk rides are really cheap. But even a great deal cheaper are bus rides. Therefore one question that I hear and answer very often is:
"Why does the bus from Kandy to Dambulla cost only 100 rupees but a tuk-tuk ride for 2.5km costs 150-200 Rs.
Do tuk-tuk drivers just overcharge tourists?"
The short answer is: In Sri Lanka tuk-tuks and the associated finance costs are just so expensive. This causes high monthly installments. These together with the running costs of the vehicle add up to a minimum of LKR 20.000 per month before tuk-tuk drivers even start earning the first rupee for the basic living costs. But read on for more detailed information about the costs of a tuk-tuk in Sri Lanka!
Hefty import tax and ridiculous interest rate
Tuk-tuks in Sri Lanka are imported from India. Sri Lanka has a hefty import tax on them. The price for a tuk-tuk is set by government, that means they cost the same in every dealership.
In June 2015 we bought our tuk-tuk. The basic model cost LKR 504.000 back then. We opted for the modified model with more comfortable seats, headrests and the rain tent for LKR 538.000. In addition to that we had to pay LKR 22.000 transportation cost from the head office to Dambulla. So our tuk-tuk added up to LKR 560.000 – about 4.000 US-Dollars!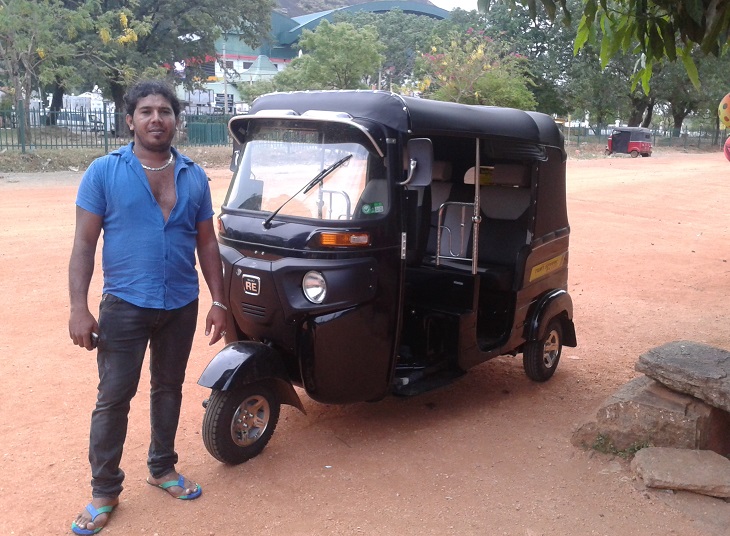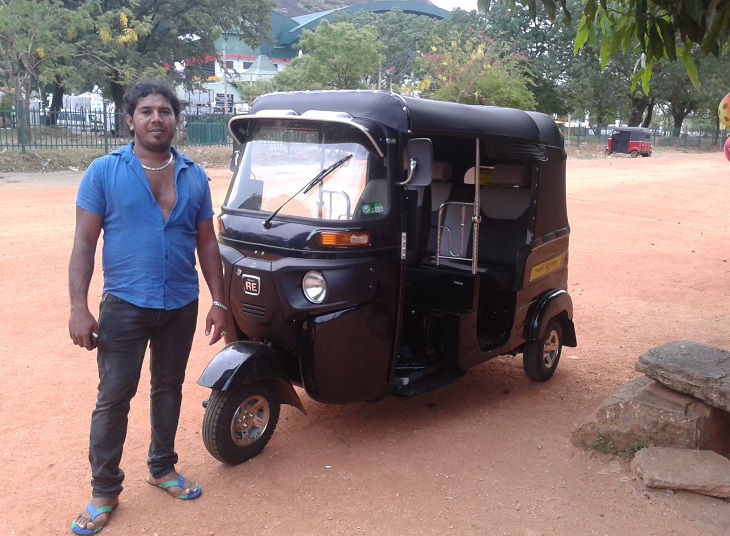 Unless you belong to the rich few percent of Sri Lankas population (which we unfortunately don't), you don't have that much money, especially not in a country where an average income may be as low as 100 USD a month! Hence people in Sri Lanka usually finance tuk tuks over a couple of years.
I asked "If we paid 100.000 down payment and finance the rest over 3 years, how much will it be?" A total of 750.000 rupees – due to an interest rate of 11%! Crazy! As we paid LKR 300.000 deposit at the finance company, the interest rate sank to 4% p.a.! We were also able to pay off the remaining amount within 18 months with installments of LKR 18.000 a month. With that the total cost for our tuk-tuk became only approximately LKR 625.000.
But what if you don't have a German bank account and sister to lend you money? Most Sri Lankans can only afford a down payment of LKR 50.000-100.000 and then pay off LKR 10.000-15.000 per month. They pay for 3-5 years.
In Sri Lanka tuk tuk prices rose again!
Even worse: Shortly after we bought our tuk-tuk the prices went up. The basic model became LKR 610.000!!! Meaning once the tuk-tuk was fully paid off it had cost about LKR 900.000 (depending on financing plan).
In May 2016 the government increased the prices again – a new tuk-tuk costs now LKR 780.000 (!!!). The average salary of a shop assistant or so of course is still the same LKR 15.000 per month. It's insane! The down payment has to be at least LKR 250.000, which leaves you still with LKR 500.000 to be financed… I assume that now the total amount will become approximately 1.2 million (!!!) once the tuk-tuk is fully paid off after many years of monthly installments.
Tuk-tuk drivers are not among the richest
And with that in mind, you will understand that the first LKR 15.000 tuk-tuk drivers earn in a month pays only the finance. The next 10.000 will be for petrol and other running costs (some repair here, a new tire there, annual insurance, …). So when they make more than 25.000 rupees a month, they actually start to be able to buy rice and vegetables and pay their power- and water bill. With a monthly income of more than 40.000 rupees they will be able to afford a new clothing item once in a while or save up for inexpensive things (new rice cooker, grinder, chicken occasionally, …) and if they earn a lot more (in peak season) they can save up for more expensive items like a new fridge/TV/mobile phone etc.
In this beautiful and touristic country Sri Lanka tuk-tuk drivers do earn OK to quite well in peak season. But they usually have some trouble paying their basic bills in offseason… So even if a tuk-tuk driver might "overcharge" you 50 rupees or so, it's not about paying part of his next expensive big flashy car, maybe you just enable him to buy a book for his children or chicken once a week for the family.
Having written all that, if you are curious about some prices of tuk-tuk tours in the Cultural Triangle, have a look at our tuk-tuk service.